Extreme
Performance
Environments
Reliability
Performance
Environments
Reliability
Performance
Environments
Reliability
Performance
Environments
Reliability
Performance
Environments
Reliability
Performance
Environments
• Shock and Vibration
• Wide Temperature Range
• Ingress Protection

Aerospace Linear Actuators
Our electromechanical actuators designed for aerospace applications can push the envelope when it comes to performance in demanding environments. Our engineering team has an in-depth knowledge of cutting edge manufacturing techniques and high performance alloys. We also have extremely volumetrically efficient brushless motors coupled with Ultra Motion's patent pending contactless, Phase Index digital absolute position sensor that has positioned Ultra Motion as an industry leader in this market space. Our aerospace actuators have power densities that far exceed what can be found on other actuators in similar size and weight categories. We excel at understanding and addressing the requirements (both stated and unstated) in unmanned and manned flight applications.
Performance specifications including:
Temperature ranges from 85°C down to -55°C
High shock and vibration
Environmental sealing
High bandwidth servo response
Vacuum and radiation exposure
Batteryless absolute position
Design and Manufacturing capabilities including:
Revision control
Lot tracking
ESD prevention programs
Electronic soldering and assembly certifications
Conformal coatings
100% acceptance testing
FAA 8130-9 (Statement of Conformity) process
Working with FAA Designated Engineering Representatives (DERs) to attain Parts Manufacturer Approval (PMA) certification.
Contact Us To Discuss
Your Application
This custom linear actuator is designed for use in vacuum or shallow underwater. The actuator has a 1.25 inch stroke length, a custom 200W brushless DC motor with a power-off brake, high-load ball bearing nut with a 0.125″ pitch, and a total gear reduction of 6.24:1. This actuator also includes an integrated version of Ultra Motion's
Phase Index™
digital absolute position encoder with a 0-5V analog output. This encoder provides robust high-speed position feedback reliably and over a wide temperature range. An internal linear potentiometer is also included for redundant position feedback. The actuator is fully shielded against EMI, and has D38999 interface connectors.
Contact Us
for more information.
"We just had a flight to 140,000 feet, and we used 4 of your Bug [B series] Actuators on the vehicle, all in critical systems. We like this actuator so much that we always look at ways to replace some of our other actuators, even the rotary actuators, with the Bug [B series] linear actuator. We have one on the main throttle control, one on the emergency cutoff system, and two for the gimbal actuators, which are constantly adjusting the engine position to keep the rocket straight."
– Phil Eaton, Armadillo Aerospace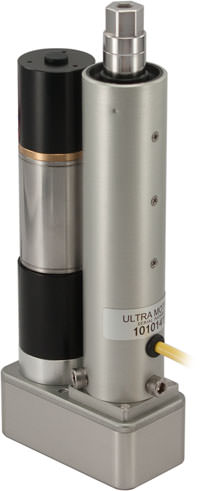 Image Courtesy of Armadillo Aerospace